Diamonds are considered forever. They are favorite gemstones for engagement rings around the world. Diamonds' importance have never been lost. They are used frequently for engagement rings and wedding rings all over the world. Engagement rings were first started in Egypt. Diamonds come in various colors white, yellow, blue, red, orange. Other color diamonds are called fancy diamonds. Diamonds, prices are controlled internationally. This is still pricy gemstone. It has not lost its worth with passage of time. Egyptians are the first who used engagement ring of modern form.
History of Engagement Rings
However, the engagement ring tradition first started from Neanderthal times. This must be quite astonishing for anyone to know that so called barbaric creatures were more civilized than we think. It is said that Neanderthals used to have stuff like grass, rushes and other things around the bride's wrists and ankles in order to show their loyalty and friendship type feelings. 


Alternative Loose Gemstones For Sale instead Diamonds
Apart from engagement ring myth, no all people can afford diamonds for engagement rings. No all people like colors what a diamond offers. Diamonds are usually set with other gemstones also as main colored gemstone like sapphires, rubies, emerald, tanzanite, morganite, jade or any other. However precious stones like sapphire, rubies, emeralds are also valuable like diamonds. After setting with these gemstones, the ring price increases.
Colored Gemstone or Loose Gemstone Rings and Birthstones
With the passage of time, the trend has been changed to colored gemstone / faceted gemstone rings also. People purchase gemstone rings matching their birthstones. They also gifts rings to their beloved people according to their birthstone. Birthstone myth and trend has been increased in the last many years. This trend has also increased the demands of colored gemstone rings
However, there is no set rules that particular gem should be set for your engagement ring. What matters in relationship is you and your partner love it.
Here are listed below some alternatives gemstones to diamonds for your engagement ring. 
Moissanite
 Mosssanite was discovered in 1893. It was a French scientist named Henri Moissan, who later won the Nobel Prize in Chemistry. At early stage, mossanite used to be considered as diamonds. Later on mineralogists and gemologists determine the fact that crystals of mossanite were composed of silicon carbide. Mossenite hardness is 9.5 on the Mohs scale. Mossanite are the 2nd hardest gemstone after diamonds Mossanite look like diamonds in first glance. Mossanites are also created in the labs. In fact, now a days, mostly mossanites available in the market are lab created.  
Sapphire
Untill 20th century, sapphires was more popular than diamonds. They used to be set in engagement rings. Royal blue sapphire was ideal. In other colors of sapphires, there are pink, yellow, white, peach, purple, green, brown, reddish orange, peach and many other colors. The 
Until the twentieth century, sapphires were more popular than diamonds as a featured gem in engagement rings. Typically thought of as royal blue, sapphires also appear in other hues such as peach, pink, teal, yellow and white. Aside from their beauty, a sapphire is a great choice for an engagement ring because they're among the world's must durable naturally occurring elements, coming in at 9 on the Mohs scale. The strength helps them stand up to the everyday wear required of an engagement ring. Their dazzling colors and lustrous beauty make sapphires an excellent diamond alternative for an engagement ring.
Aquamarine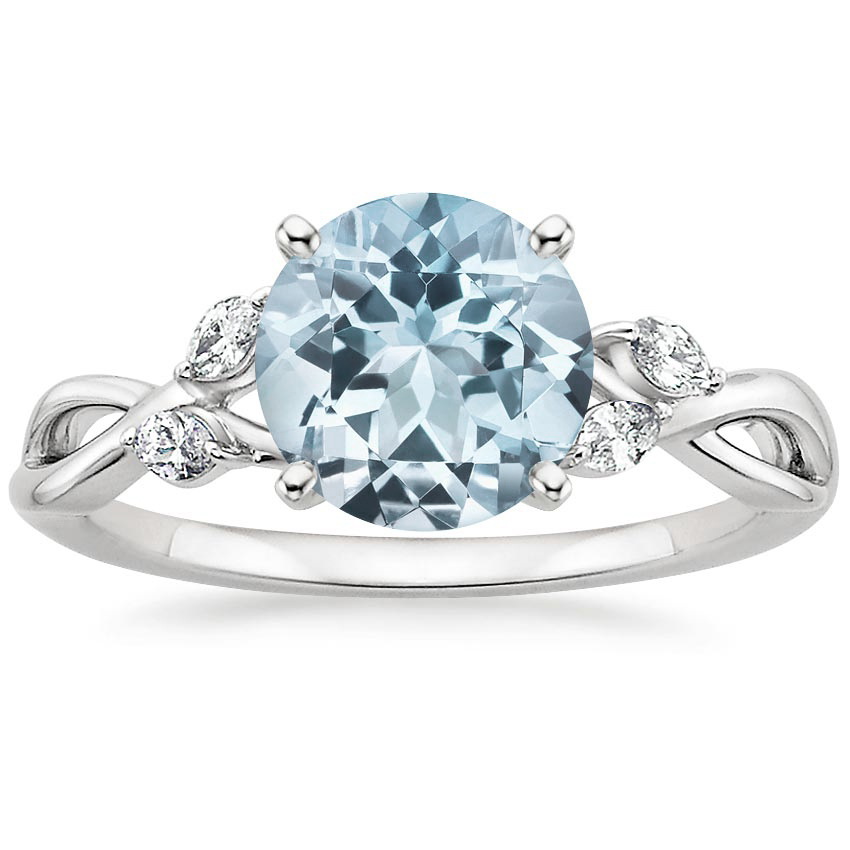 Aquamarine, meaning "water of the sea", is a beautiful pale blue semi-precious gemstone. These gorgeous gems are part of the beryl family of minerals, which also includes emeralds. Aquamarines are beloved for combining a beautiful shade of blue with exceptional clarity, and look gorgeous in many engagement ring settings!
Morganite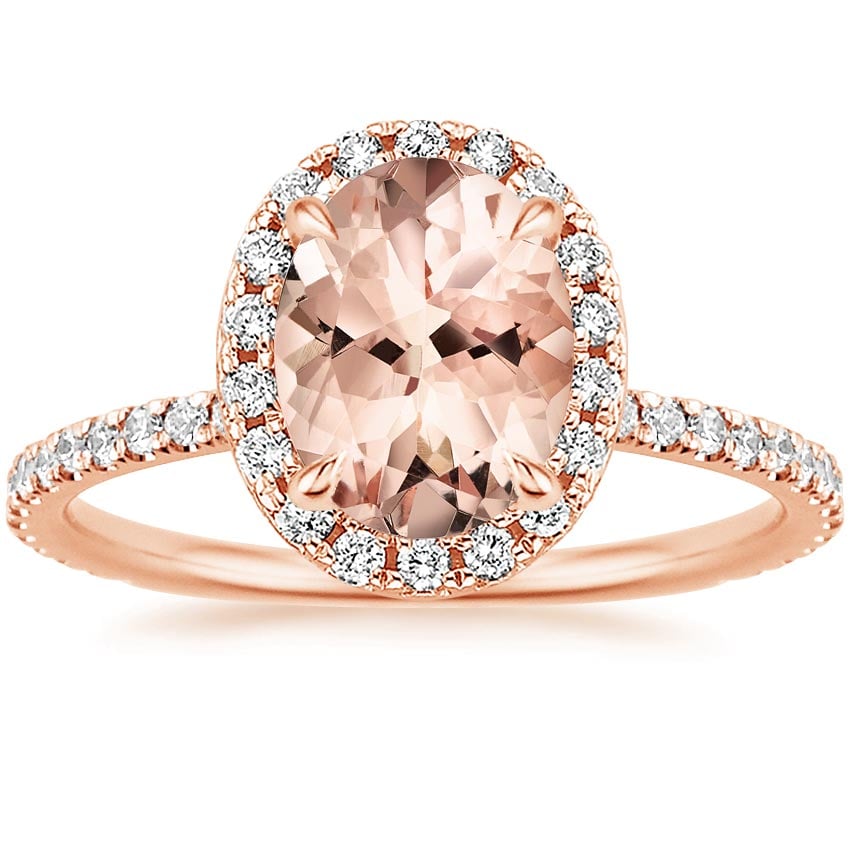 Blush-hued morganite looks beautiful as the centerpiece of an engagement ring. Morganite is a pink to peach variety of beryl. Apart from their beautiful color, they are also treasured for their sparkling clarity and high degree of brilliance. Morganite looks lovely when paired with rose gold as the two naturally complement each other's warm undertones.
Emerald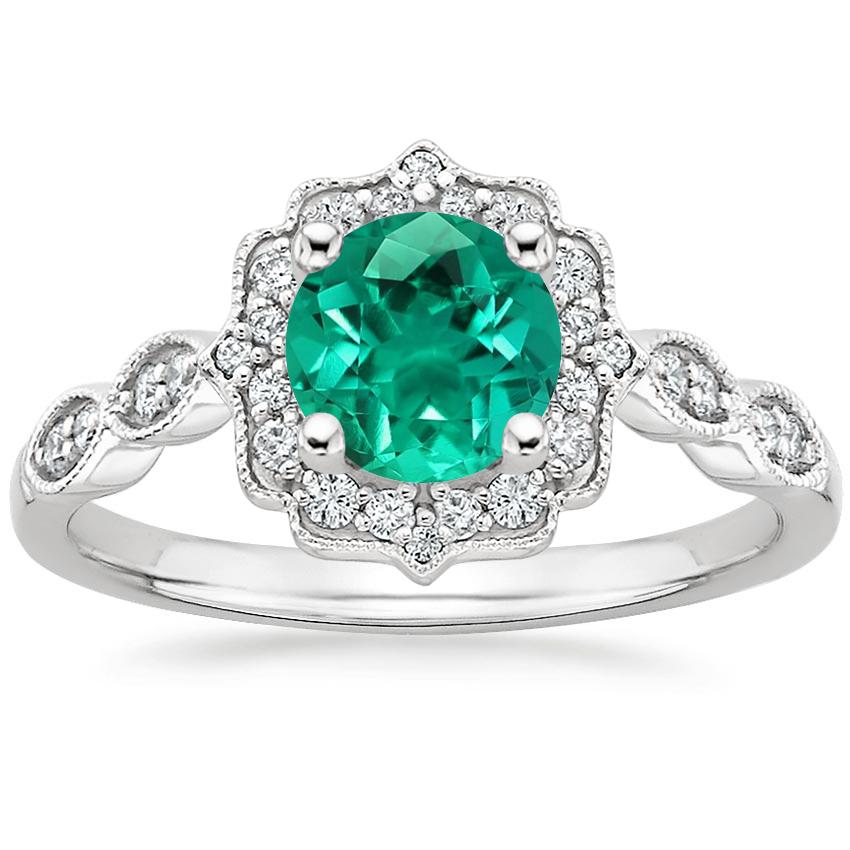 Valued throughout history, emeralds are one of the rarest gemstones and make a beautiful choice for an engagement ring center gemstone. Emeralds are the gems of royalty, and are the most well known and highly prized of green gemstones. Unlike diamonds, whose clarity must be evaluated using a 10x magnification, emerald clarity is graded with the naked eye. Legend has it that wearing emeralds can give you the ability to foresee the future and see the truth. It has also been believed that emerald has the power to cure disease and protect against evil!
Ruby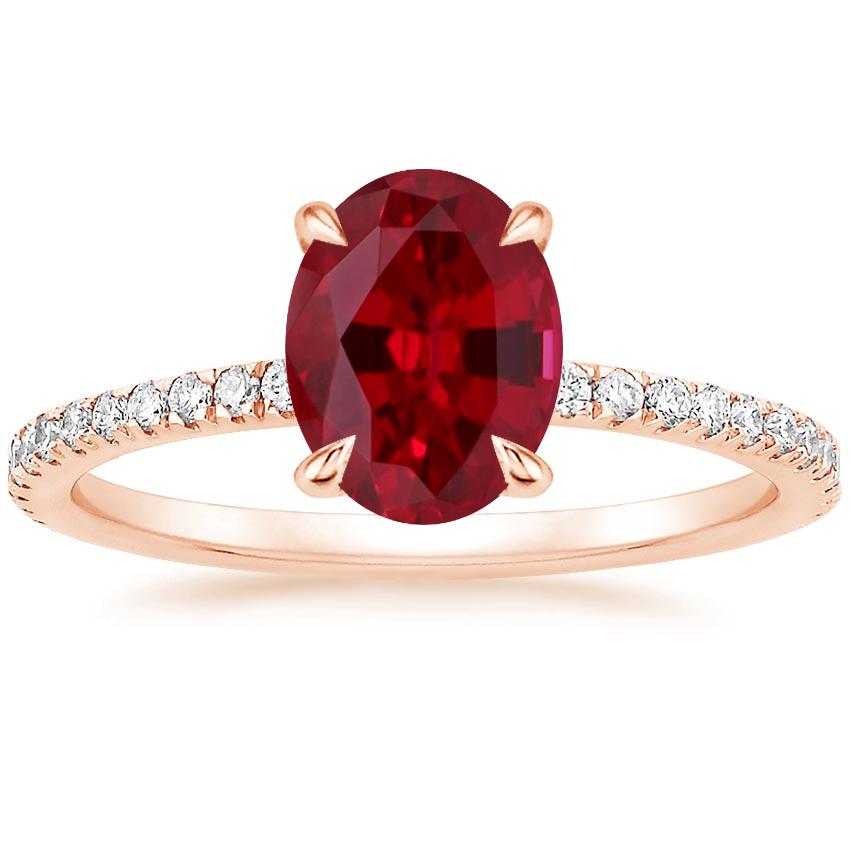 Rubies have been valued for their rare beauty for thousands of years. Because red has long been associated with love and passion, a ruby makes a fitting focal point for an engagement ring. A ruby's crimson red color looks excellent in vintage rings  as well as modern styles featuring lustrous precious metals.
Amethyst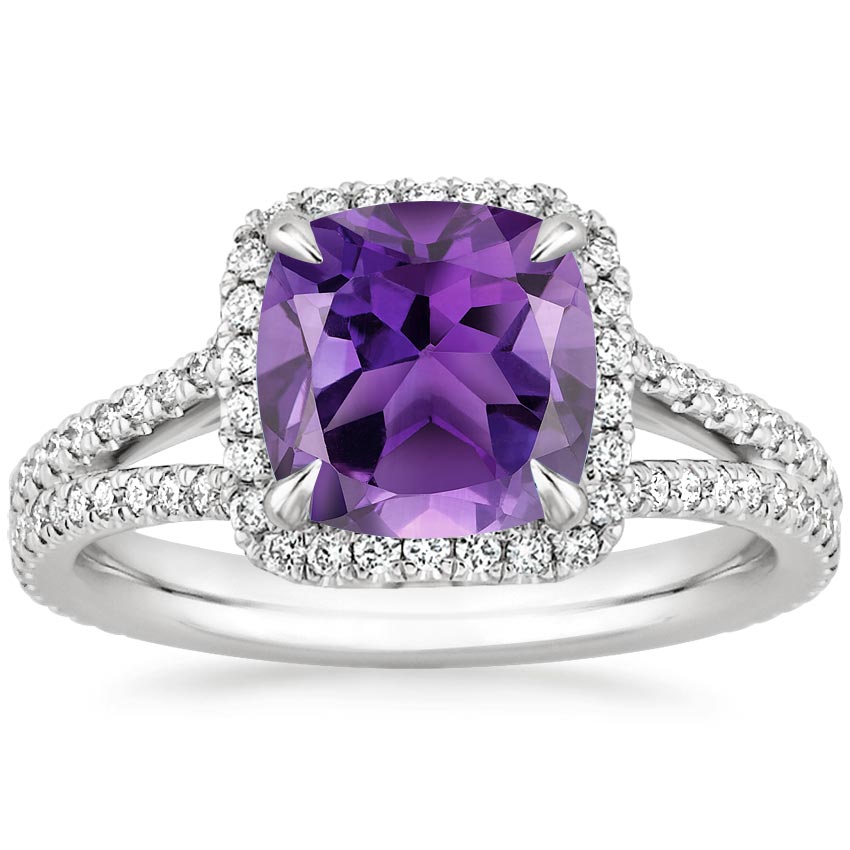 Vibrant amethysts come in colors ranging from deep purple to the palest shades of pastel lavender and even pink. The most valuable hue is a strong reddish purple shade, but we love every shade of amethyst! Lavender hues look particularly stunning in amethyst engagement rings when complemented by diamond accents. Most amethysts have excellent clarity, with no inclusions visible to the naked eye, and are available in a variety of cuts and carat weights.